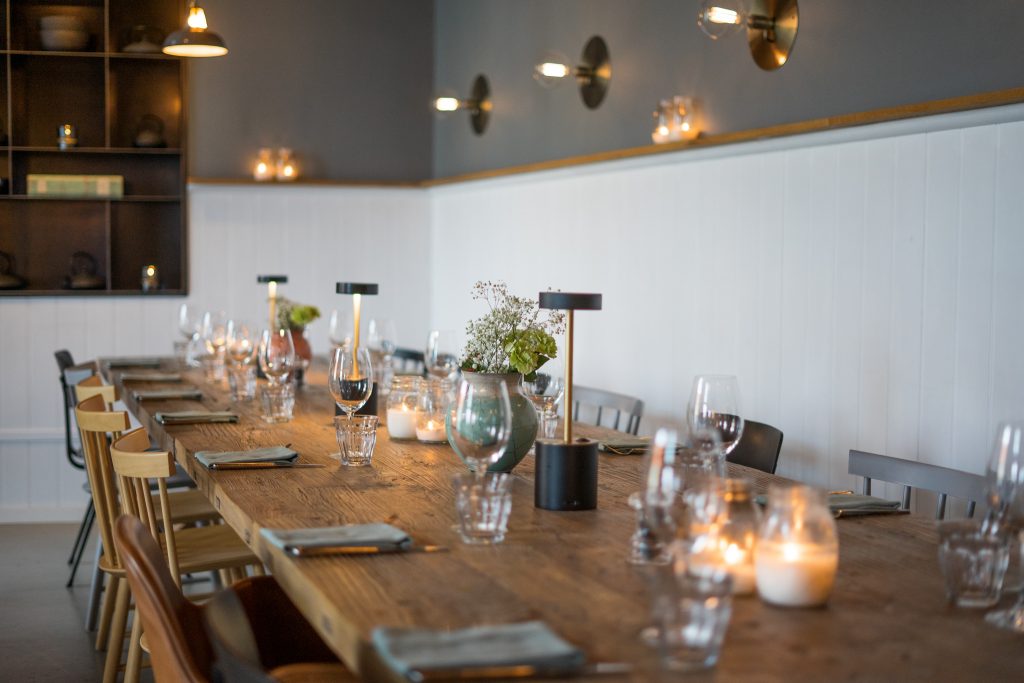 Selskaber på Boathouse
Parties at Boathouse
With its simple elegance and open interior design, Boathouse enjoys all kinds of possibilities for parties and events. Here you will find the perfect setting for everything from birthdays, confirmations, receptions, product launches, christenings and Christmas lunches to larger dinners.
 For larger parties from 20-100 guests, we offer our special party section, where you and your guests can enjoy events in private. Access is easy from both land and sea. With its beautiful view of the Copenhagen harbour, the restaurant is the perfect party location for any occasion.
Let us create your next event at Boathouse together.
Contact us at info@boathouse.dk or on +45 70 70 24 27
SET MENU
The menu must be ordered by the entire table.
---

---

TOMATO RISOTTO

Parmesan, red onions, spinach, mascarpone and crispy almonds (L*)(G*)

---

---

GRILLED CHICKEN BREAST

Timian-kyllinge Jus

---

ORGANIC POTATOES

Lovage butter (L*)

---

KÅLSALAT

Citrusdressing, grønne bønner, kirsebær, endive, radicchio og røget mandler (L*)(G*)

---

---

RHUBARB TRIFLE

Mascarpone and crumble (L*)(G*)
---

---

TIGER PRAWNS

Spring onions, celery salsa and crispy quinoa

---

COLD SMOKED SALMON

Grilled apple chutney, radish, gem lettuce, horseradish and cress (L*)(G*)

---

VEAL TARTARE

Avocado, cucumber, shallots, jalapenõ, capers, chive mayonnaise and fresh herbs (G*)

---

---

GRILLED RIB-EYE

275g, Organic fries, Caesar salad and béarnaise sauce (G*)

---

---

LEMON MERINGUE PIE

Italian meringue (L)(G)
---

---

TIGER PRAWNS

Spring onions, celery salsa and crispy quinoa

---

COLD-SMOKED SALMON

Grilled apple chutney, radish, gem lettuce, horseradish and cress (L*)(G*)

---

APPETIZERS

(Family style)

---

SPRING ROLLS

With beef, beans and grilled bell peppers, served with a spicy pineapple sauce (G*)

---

VEAL TARTARE

Avocado, cucumber, shallots, jalapenõ, capers, chive mayonnaise and fresh herbs (G*)(N*)

---

MAIN COURSES

(Family style)

---

---

GRILLED CHICKEN BREAST

Organic fries, Caesar salad, béarnaise sauce and barbecue sauce (G*)

---

---

RHUBARB TRIFLE

Mascarpone and crumble (L*)(G*)